Atletico Madrid vs Juventus Champions League ONS, 20 FEB 2019, 21:00
Info
Atletico Madrid vs Juventus Champions League Spilles: ONS, 20 FEB 2019, 21:00, Estadio Wanda Metropolitano

Husk:
* Endelig kampdato og tidspunkt fastlegges 5-10 dag før kamphelgen.
* HUSK! Du vil ALDRI få noen enkeltseter. Du vil alltid få seter ved siden av dine venner, rett foran eller rett bak dine venner hvis du bestiller sammen. Dette er vår garanti fra oss til deg!.
* Du sitter alltid blant hjemmelagets tilskuere.
Les mer her, så er du godt skodd før du gjør ferdig bestillingen din.

Nedenfor kan du lese mer om de plasser og kategorier du kan bestille til fotballkampen din.
Fra 3314 kr
Kategori
CATEGORY LONGSIDE:
* Tickets are in ring 3 (Upper Longside, Lateral Oeste). The Burgundy Red area on the arena plan.
* Stadium tour included.
CATEGORY SHORTSIDE:
* Tickets are in
Short Side (
Short side is the entire goal side)
.
* Stadium tour included.
VIP CLUB ESTE
:
* Tickets are in
ring 2 (Longside), Block 228, row 11.
* Centrally located in the East Stand in the heart of the middle tier.
* Easy and direct access to lounge from ground level and parking.
* Family friendly lounge below, interactive food stations.
* New catering experience, street-market style, buffet.
*
Food & Drinks included.
* 1 parking space per 4 persons.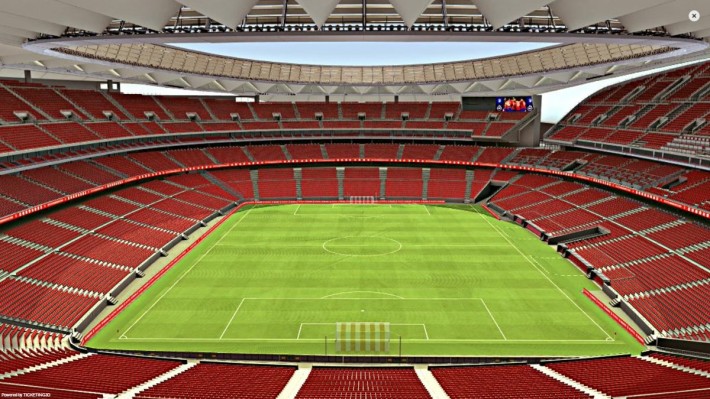 Arenainfo
Estadio Wanda Metropolitano
Tilskuere
67.000
Adresse
Estadio Wanda Metropolitano,
28022 Madrid,
Spain


Se på et kart
Metro
Line 7 Estadio Metropolitano (Olimpico)
Sesongen er over. Billettsalg til neste sesong starter i juni/juli
Sesongen er over. Billettsalg til neste sesong starter i juni/juli
Sesongen er over. Billettsalg til neste sesong starter i juni/juli